We take safety seriously.
Our priority is the safety of our students, staff and spectators. 
Safety at the natatorium
The natatorium follows all Garland ISD, local and state guidelines and policies. We also employ lifeguards and train staff on best practices to make sure everyone at the building has a great experience.
Everyone must follow these policies:
Facility rules
A Garland ISD supervisor is required to be present for all non-school use.
Garland ISD lifeguards are required for facility use. Instructions from lifeguards must be obeyed.
Equipment may not be stored at our facility. Only trained personnel may operate Garland ISD equipment.
Running is not allowed.
Anyone with an infectious or communicable disease may not use the pool.
Anyone with open blisters, sores or rashes may not use the pool.
Children who are not toilet trained may not enter the pool.
Children under 10 years must have an adult in the water with them.
Children ages 11-15 must have an adult on the pool deck with them.
No one under age 16 can be left at the natatorium alone and picked up later.
"On Deck" coaching during community swim hours is not allowed.
Swimmers must stay off the lane ropes and may not swim under the bulkheads.
No flotation devices are allowed except for U.S. Coast Guard-approved life vests.
The weight room, hot tub, diving boards, starting blocks, showers and locker rooms are not for community swim use.
No one may enter the filter, circulation and chemical areas except for authorized personnel.
Any applications for non-school use of our facility should be made to the aquatic manager at the natatorium (see leasing or contact us).
Need a hard copy of the rules? Read the Facility use rules & regulations (PDF).
Please do not bring the following to the natatorium:
Non-see through purses, backpacks or diaper bags
Glass containers of any kind
Flags, signs, banners
Outside food and beverages
Noisemakers
Balloons
Weapons (knife, gun, sword, etc.)
Cigarettes or e-cigarettes
Wrapped gifts
Pool toys or flotation devices not approved by the U.S. Coast Guard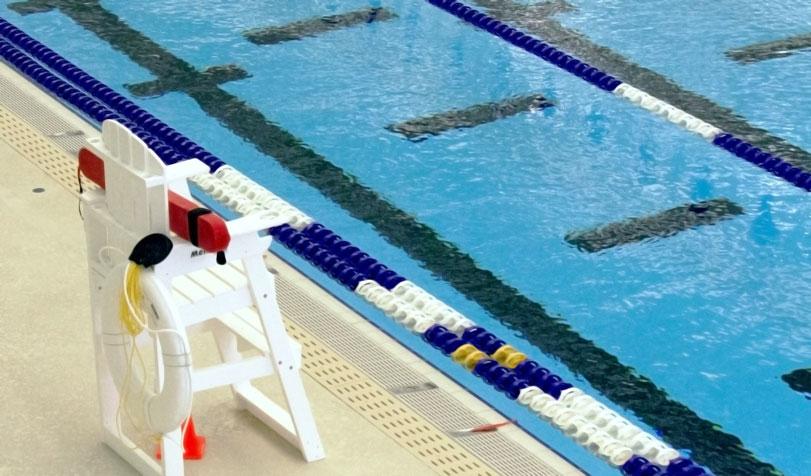 Note: All entrants may be searched. Prohibited items must be returned to the owner's car or discarded. Any unlawful items may be confiscated, and the person in possession is subject to arrest. Items left at the door will be discarded.
COVID Guidelines
Accessing the facility
District Policy requires anyone entering the facility to be wearing a face covering. Failure to do so will result in access being denied.
The coach or designated person for the rental is responsible for screening all entrants and participants.
Spectators/parents will not be allowed in the facility during scheduled rental times.
Once the coach or designee has left the entrance no one will be allowed to enter unless the coach or designee returns to the entrance to screen them.
Facility usage
All participants will wear a face covering while in the facility. Face coverings may be removed immediately before activity and replaced immediately after activity.
It is the responsibility of the rental group to monitor and maintain compliance with face coverings.
Locker rooms are not available for use by rental groups.
All participants should come already prepared to swim and place bags/gear in designated areas.
Two single-use bathrooms are available at the South end of the pool deck.
Reporting COVID cases
Rental groups must report any positive or suspected COVID cases to the Aquatic Manager. The district will then follow policy as needed.
Find more information on the USA Swimming COVID Recommendations (PDF).